What's the big difference between "over-the-counter" and "professional" skin care products?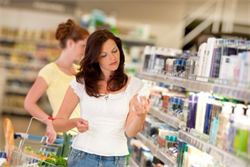 At the most basic level, do you go to the drugstore or to the doctor when you're really sick and need something to make you feel better? Which will be more effective in getting the results you want?
"Over-the-counter" skin care products, like medicine, are those that can be purchased without a prescription (such as Aveeno, Cetaphil, Neutrogena, Garnier, etc.). These are regulated by the U.S. Food and Drug Administration (FDA) and can ONLY penetrate the first layer of your skin — which are comprised of dead skin cells. They basically sit on the surface.
"Professional" products (cosmeceuticals) are pharmaceutical-grade and are only available through licensed estheticians or doctors (such as Lira, Tecniche, Dermalogica, etc.). These are not controlled by the FDA and do penetrate the bottom layers of the epidermis — which is live skin tissue. It's in these bottom layers that collagen, elastic and new skin cells reside, making skin look healthy and youthful.
The active ingredients in professional products are what make a difference in skin concerns like age spots, acne, dry/dehydrated skin, aging skin, and more.
Questions? Looking to get on the right track this year? Bring in the skin products you are currently using for a free skin care consultation at Salon Prive by calling (530) 848-2315 or emailing ekalfsbeek@gmail.com.